Unleashing the potential of your adorable Dachshund puppy begins with the right training approach. How To Train a Dachshund Puppy? As a dedicated Dachshund owner, understanding their unique temperament and learning effective training techniques is essential for a well-behaved and happy companion. From mastering commands to housebreaking, the proper training sets the foundation for a fulfilling relationship with your Dachshund. This comprehensive guide will delve into proven methods and expert tips to help you train your Dachshund puppy effectively.
Whether you're a first-time Dachshund parent looking to enhance your current training methods, In this article: how to train a Dachshund puppy? Discover how to navigate the challenges specific to Dachshunds, capitalize on their intelligence, and turn training into a rewarding experience for you and your furry friend. Together, let's unlock the full potential of your Dachshund and create a lifelong bond built on trust and understanding.
Understanding The Dachshund breed
Dachshunds, also known as wiener dogs or sausage dogs, are a unique and adorable breed known for their elongated bodies and short legs. Originating from Germany, these small hounds were initially bred for hunting badgers and other tunnelling animals. Their distinctive shape and fearless nature make them stand out in the canine world. Dachshunds come in three coat varieties: smooth, long-haired, and wire-haired, each with its own grooming needs and personality traits.
Despite their small size, Dachshunds are courageous, independent, and often have a stubborn streak. Understanding their breed characteristics is crucial for practical training. While loyal and loving towards their families, they can also be wary of strangers and possess a strong prey drive. Their intelligence and determination make them quick learners, but it also means they can be wilful at times. These traits will help tailor your training approach to suit their needs.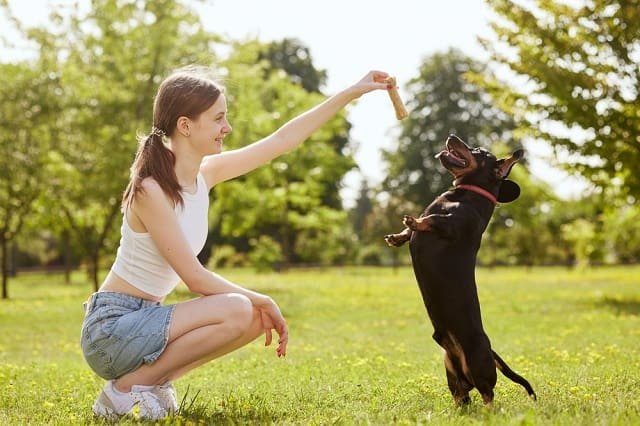 The importance of Train a Dachshund puppy
Training your Dachshund puppy is not just about teaching them basic commands; it's about shaping their behaviour and instilling good habits that will last a lifetime. Proper training is essential for the well-being of your Dachshund and the harmony of your household. Without adequate training, Dachshund puppies can exhibit undesirable behaviours such as excessive barking, digging, and aggression towards other animals. Starting exercise early can prevent these issues and foster a well-adjusted and obedient companion.
Moreover, training provides mental stimulation for your Dachshund puppy, keeping their active minds engaged and preventing boredom. This is particularly important for a breed as intelligent as the Dachshund. Training sessions also create opportunities for bonding and building trust between you and your puppy. When done correctly, training can strengthen your relationship and establish you as the leader, which is crucial for the overall well-being of your Dachshund.
Basic Training Techniques For Dachshund Puppies
Practical training begins with teaching your Dachshund puppy basic commands such as sit, stay, come, and down. These fundamental skills form the building blocks for more advanced training and help establish your leadership role. Positive reinforcement is critical when training Dachshund puppies. Using treats, praise, and toys as rewards for good behaviour encourages them to repeat the desired actions. Keep training sessions short and fun to prevent your puppy from becoming bored or frustrated.
Consistency is vital when teaching basic commands. Use the same cues and gestures each time, and be patient as your puppy learns. Incorporating training into your daily routine, such as before meals or walks, helps reinforce the lessons. Dachshunds respond well to positive, gentle training methods, so avoid harsh punishments or scolding, as it can lead to fear or aggression. With patience and perseverance, your Dachshund puppy will quickly grasp these essential commands and be on their way to becoming a well-mannered companion.
House Training and Crate Training For Dachshund Puppies
House training, also known as potty training, is a critical aspect of raising a Dachshund puppy. Due to their small size, Dachshunds can be challenging to house train, but with consistency and a structured routine, they can learn to do their business outside. Take your puppy to the designated potty area after meals, naps, and playtime, and praise them lavishly when they are in the right spot. Accidents are inevitable, so be patient and refrain from punishing your puppy for mistakes.
Crate training is another valuable tool for house training and providing your Dachshund with a safe, den-like space. Introduce the crate gradually, making it a positive and comfortable environment with treats and toys. Use the box for short periods initially, gradually increasing the duration as your puppy becomes accustomed to it. A properly crate-trained Dachshund will see it as a secure retreat and be less likely to have accidents indoors. Both house training and crate training require patience and consistency, but the effort will pay off with a well-behaved and house-trained Dachshund.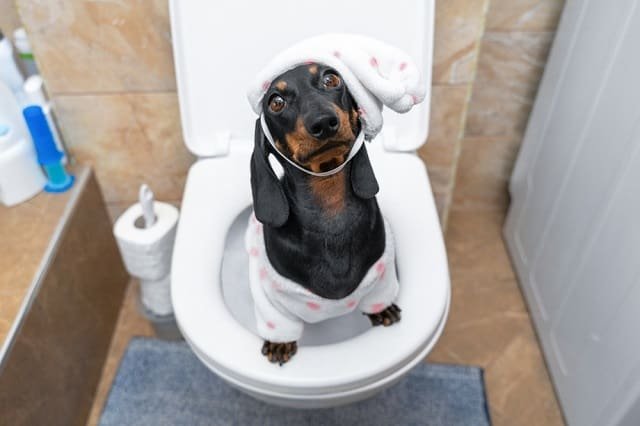 Socialization and obedience Training For Dachshund puppies
Socialization is crucial for Dachshund puppies to grow into well-adjusted adults. Expose your puppy to various people, environments, and other animals from a young age to prevent fearfulness and aggression. Positive experiences during the socialization period, typically between 3 and 14 weeks of age, can shape your Dachshund's behaviour for life. Enrol your puppy in puppy classes, where they can interact with other dogs and learn valuable social skills under the guidance of a professional trainer.
Obedience training goes hand in hand with socialization, teaching your Dachshund to respond to commands despite distractions. Use positive reinforcement to reward good behaviour and gradually increase the difficulty level in training scenarios. Obedience training ensures your Dachshund's safety in various situations and strengthens the bond between you and your puppy. Consistent training and positive experiences will help your Dachshund grow into a well-mannered, confident adult dog.
Handling Common Behavioral Issues in Dachshund Puppies
Like any breed, Dachshunds can exhibit behavioural issues requiring attention and training. Separation anxiety, excessive barking, and digging are common challenges Dachshund owners may face. To address separation anxiety, gradually accustom your puppy to being alone by leaving them for short periods and gradually increasing the time. Provide comforting items such as toys or blankets to help them feel secure in your absence.
Dachshunds are naturally vocal, so redirecting their energy into interactive play and training sessions can help reduce barking. Digging is a natural behaviour for Dachshunds, rooted in their hunting instincts, but providing alternative outlets, such as designated digging areas or interactive toys, can help minimize this behaviour. You can guide your Dachshund toward more desirable behaviours by addressing these common issues with patience and positive reinforcement.
Advanced Training For Dachshund Puppies
Once your Dachshund puppy has mastered basic commands and good manners, you can progress to more advanced training. Advanced obedience skills, agility training, and scent work are excellent ways to challenge and stimulate your Dachshund's active mind. Obedience competitions and agility trials allow your Dachshund to showcase their intelligence and athleticism while strengthening your bond as you work together as a team.
Scent work, such as tracking or search and rescue training, taps into your Dachshund's innate hunting abilities and provides a mentally enriching activity. These advanced training activities keep your Dachshund physically fit and fulfil their need for mental stimulation, preventing boredom and potentially destructive behaviours. Always ensure that advanced training activities are introduced gradually and in a positive, encouraging manner to maintain the joy and enthusiasm in your Dachshund.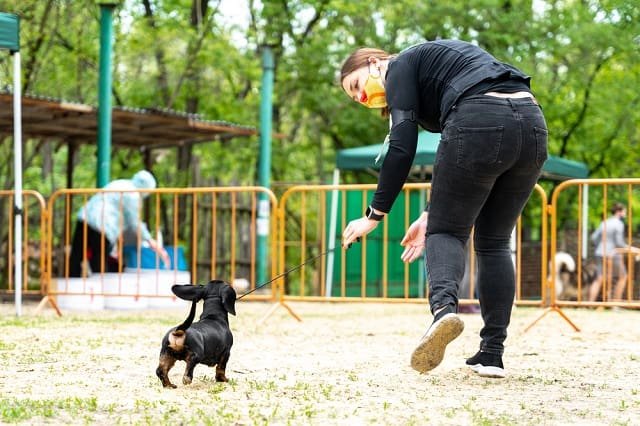 Training Tools and Resources For Dachshund Owners
As a Dachshund owner, you have various training tools and resources to aid in your puppy's development. High-quality treats, such as small pieces of chicken or cheese, can be used as rewards during training sessions. Interactive toys, puzzle feeders, and chew toys provide mental stimulation and help prevent boredom. Enrolling in puppy classes or obedience training programs led by experienced trainers can provide valuable guidance and support as you navigate your Dachshund training journey.
Numerous books, online resources, and videos dedicated to Dachshund training offer insights and tips from experts in the field. Harnessing these tools and resources can enhance your training approach and provide new ideas to keep your Dachshund engaged and motivated. Remember to tailor the training tools and resources to suit your Dachshund's preferences and personality, as each dog is unique and may respond differently to various methods.
Conclusion: How To Train a Dachshund Puppy?
Training your Dachshund puppy is a rewarding and transformative journey that lays the groundwork for a harmonious and fulfilling relationship. By understanding the unique traits of the Dachshund breed and tailoring your training approach to suit their needs, you can unleash their full potential and create a well-behaved, confident, and happy companion. From basic obedience skills to advanced training activities, each step of the training process strengthens the bond between you and your Dachshund and enriches their life with mental and physical stimulation.
With patience, consistency, and a positive attitude, you can guide your Dachshund puppy toward becoming a well-mannered and well-adjusted adult dog. The training journey is not without its challenges, but the rewards of a well-trained Dachshund who brings joy and companionship to your life far outweigh the efforts invested. Embrace the training process as an opportunity to connect with your Dachshund on a deeper level and witness the incredible transformation as they unleash their full potential under your guidance. You and your Dachshund can embark on a lifelong journey of learning, growth, and mutual understanding.